Whether you run your own business or are working on behalf of someone who is wanting to promote their business online, this article is for you. First, we're going to assume that you are aware of the world of PPC marketing and the advantages it can bring for driving business online. If you need a refresher, no stress – this great article by Search Engine Journal helps answer the question 'what is PPC?'.
In this post, we'll run through:
1. Creating a Google Ads Account
2. Understanding the Google Ads Account Structure
Let's get started!
1. Creating a Google Ads Account
To start setting up your Google Ads Account, you'll need to go to the official Google Ads website. Once there, follow these steps:
Enter the email address that you'll use to access your Google Ads account. This will likely be a business email. Alternatively, if you have an account that you use for Gmail, use this email address to sign up.
Enter the web address of the website that you want to advertise and click 'continue'.
That's it! You're getting closer to building your first campaign! But first, you'll want to know just what goes into a Google Ads account, and how to structure it so that it works best for your business goals.
2. Understanding the Google Ads Account Structure
To create a Google Ads account that meets your goals as an advertiser, you'll need to know how to organise your account effectively.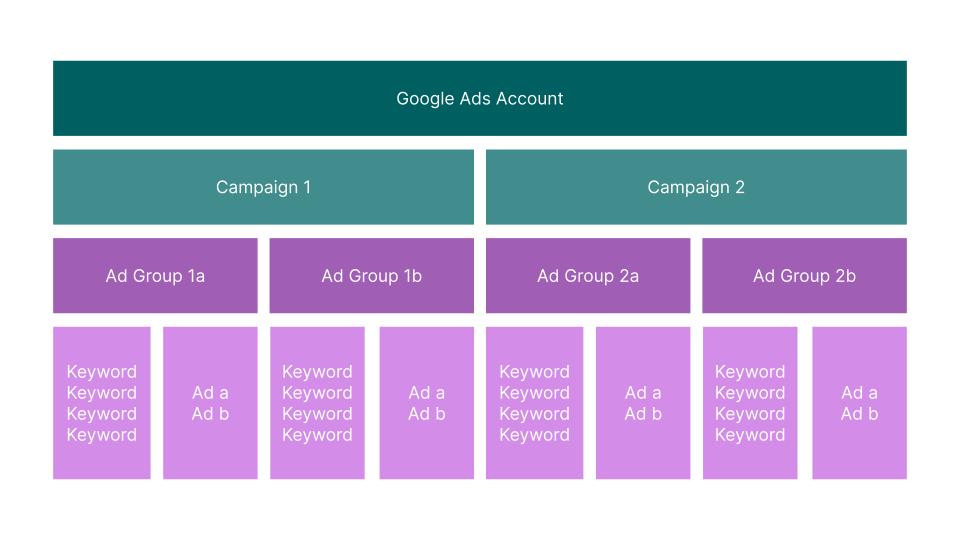 All Google Ads accounts are structured in the same way. At a top level, you have your account where you will set your basic information such as basic account details, who can access your account, and your billing details.
Within your account are campaigns. There are a number of different campaign types including search (displaying ads in search results), call only (best for local businesses who want to drive phone calls and may not have a website), and display campaigns (for generating awareness via banner advertising). Depending on your goals, you may decide to use just one, or a combination of campaign types.
So what goes into a campaign though? In Google's own words, "campaigns are a set of Ad Groups that share a budget, location targeting, and other settings. Campaigns are often used to organise categories of products or services that you offer."
With that in mind – you're probably wondering 'what are Ad Groups then?' We're glad you asked.
Ad Groups sit within each campaign you create (almost like subfolders within a filing system) that are organised by theme. To understand themes, consider the products and services you want to advertise. There is likely a number of different ways your audience will search in order to find your business, and it's good to anticipate these and make sure you are creating Ad Groups to capture these searches. For example, if you sold office chairs, you may have different categories of chairs such as 'children's computer chairs' and 'executive office chairs'. These two categories need to be split out into their own Ad Groups, so that users get the most relevant ads.
It makes sense then to know that Ad Groups contain ads and bids for these ads to show. In order for ads to show though, you'll be adding relevant, related keywords to each Ad Group that will trigger your ads when someone makes a search on Google. Going back to our office chair example, your children's computer chairs ad group may have keywords such as 'colourful childrens computer chairs' and 'low cost children's computer chairs', while your executive office chairs ad group would have its own set of relevant keywords.
For each Ad Group, you'll have ads that will trigger based on your keywords. It's best to have these ads include the keywords you are bidding on so that they are highly relevant to the searcher's intent. Whether you have text ads or banner ads, it's best to have at least two ads in each Ad Group so that you can test which one performs better, and continuously optimise.
And that's it! Just remember:
Account (business details and billing) > Campaigns (overarching settings like budget and audience targeting used to group services and offers that you want to advertise) > Ad Groups (containing keywords, bids for these keywords, and ads related to these keywords). While there's a number of additional ways to optimise each level of your account, this structure will always remain the same.